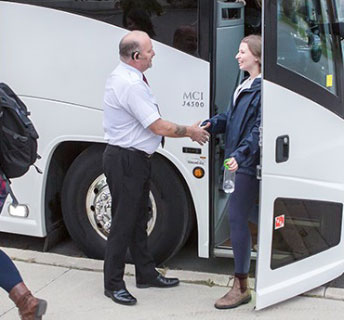 At TOK Coachlines, safety, service and reliability are at the heart of our business. These three pillars form the foundation of the TOK Coachlines Difference. It is our pledge to you, our valued customer, to provide the pinnacle of coach and bus transportation service, backed by an unwavering standard of safety that exceeds government standards, including all requirements by the Ministry of Transportation.
Motor coach travel remains one of the safest modes of transportation in Canada. And with our industry leading safety standards, TOK Coachlines continues to be a front-runner in safety. All of our coaches undergo regular maintenance to ensure performance is second to none, and all of our drivers undergo rigorous pre-employment screenings, are subject to random drug and alcohol tests, and attend ongoing safety and training programs to continue our commitment to your well-being.
Ride confidently by also knowing that for over 35 years, our fleet of 40 luxury tour coaches have served the group travel market in Toronto and the Greater Toronto Area with diligence and care. Every day, up to 100 charter movements are routinely handled by TOK Coachlines, including a plethora of wholesale tour operations, group events, shuttle bus services and municipal transportation. We also successfully operate two daily schedule bus routes between Haliburton and Toronto via Lindsay, as well as between Kincardine and Toronto via Toronto Pearson International Airport. Our proven service record speaks for itself.