Fallsview Casino Resort Single Ticket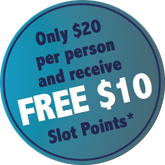 Can-ar coach CASINO tours every
Wednesday

, starting April 26th, 2017





Location
Departure Time
1. Polish Association of Toronto
2282 Lakeshore Blvd. W.
9:30 AM
2. 1 Palace Pier Crt
(Corner of Waterfront Dr & Palace Pier Crt)
9:35 AM
3. Variety Plus
82 Marine Parade Drive
9:37 AM
4. Front of BMO on Park Lawn Rd.
2194 Lakeshore Blvd. West
9:40 AM
*Compliments of Fallsview Casino resort. All passengers must have Players Advantage Club
card to receive incentives.
*All patrons must be 19 years or older with valid government issued I.D. to board the bus. TOK Coachlines reserves the right to refuse transportation to any person and to any person without valid government issued photo I.D. for Casino destinations Ticket must be purchased 24 hours prior to the trip. Otherwise first come first serve basis $20 per person payable to the driver if there are any seats available. All pickup points are based on availability are are subject change at any time. Departure and Arrival times are approximations and are not guaranteed. Delays due to unusual or difficult road or weather conditions are not the responsibility of TOK Coachlines. You must have valid government issued photo I.D. in order to receive your Players
Advantage Club (PAC). You can obtain your complimentary PAC card at the Niagara Casino Resort and it is required in order to receive incentives. How to optain a Players Advantage Club (PAC) On your first visit you must make a PAC card at time of arrival at Niagara Casino guest services counter, and Must present it to the driver on your return trip. If you haven't made a PAC card, Can-ar has the right to refuse your ride home. Please abide by all parking regulations, violations are at owners expense. All programs are subject to availability and may change without notice. This service is intended for the use of Casino customers only.
TOK Coachlines Service Casino tours 1-800-387-7097